---
Driver Interviews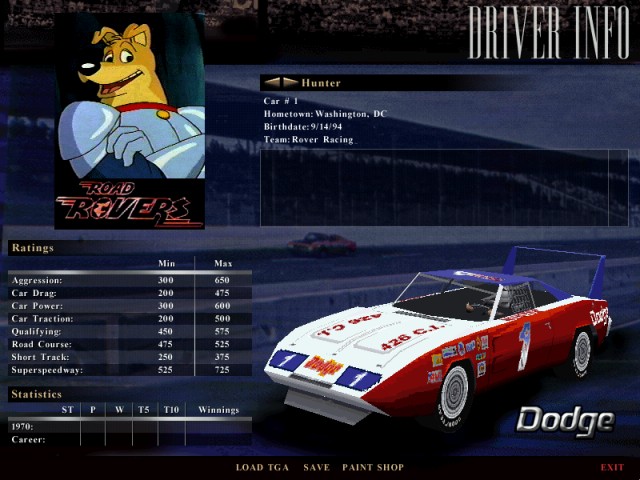 Along with the driver's picture, their hometown, birthdate (or the best reasonable guess) and team name are included, along with any other info in the box just above the car.
The Ratings box at the bottom left is what determines just how this driver operates:
Aggression: More aggressive drivers charge to the front and fight hard to stay there, but are more likely to cause or get caught up in a crash. Less aggressive drivers usually can stay out of trouble on the track by hanging back and making their move when the other drivers slip up, but often don't finish very high up if the race has very few caution flags.
Car Drag, Car Power, Car Traction: These stats are determined from base values that are tweaked for each driver (e.g. A reckless driver's car will have a little more power, but less traction to compensate for it.)
The next four ratings determine the driver's skill in various situations. These are balanced so that each driver has a strength and a weakness. In the abovce example, Hunter is especially good at Superspeedways (large "flat-out" tracks a mile or more in length), but has problems at Short Tracks (small 1/2 or 1/4-mile tracks that require lots of braking).
The whole idea here is to try and vary the field enough so that no one or two cars can dominate all the races, but the results will also still be believable. Of course, you can change the statitistics any way you want, but at least I'm trying to give you a fair challenge.
---